With the cumulative experience of 55 years within the market
High End Data Center Solutions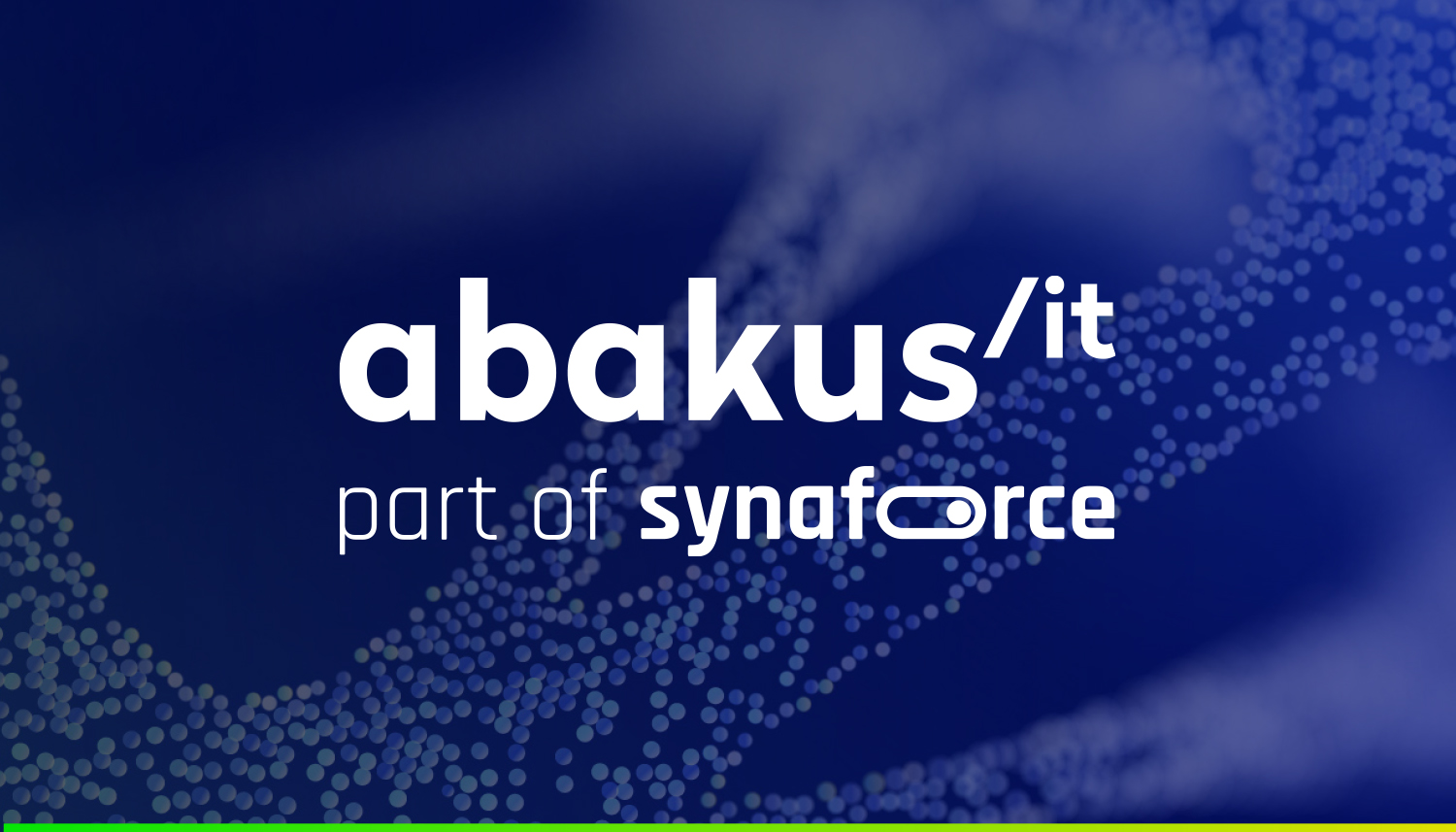 With the cumulative experience of 55 years in the market: This is how "Team Abakus" enriches synaforce's range of services.
The IT industry has developed rapidly in recent decades and companies today face the challenge of managing their technology infrastructure efficiently while keeping pace with the latest innovations. In this dynamic landscape, Abakus IT Service GmbH has established itself as a reliable full-service provider for companies since its foundation in 1968. With an extensive range of services, a dedicated team of around 21 employees and, since 2013, its own certified data centre, Abakus IT Service GmbH offers a wide range of services aimed at helping its customers meet their IT challenges. The "Team Abakus" now brings this experience and expertise to synaforce and expands the portfolio of the high-end data centre solution provider with a variety of innovative services.
Classic system house business
As a long-standing player in the IT industry, synaforce benefits from the extensive experience of "Team Abakus" in the classic system house business. The comprehensive range of products and services supports customers in setting up, expanding and maintaining their technological infrastructure. From the supply of hardware and software to the implementation and integration of complex systems as well as state-of-the-art security solutions, synaforce offers customised services that meet the specific requirements of its customers.
Consulting and planning for IT projects
A major focus of synaforce is on consulting and planning IT projects. The experienced team of IT experts works closely with clients to understand their business goals and develop customised IT solutions to achieve them. From conception to implementation at the customer's site, synaforce ensures that IT projects are realised efficiently and successfully.
Monitoring of on-prem infrastructure
Synaforce also offers comprehensive monitoring and services for on-prem infrastructures. By monitoring IT systems in real time, any potential problems can be identified and rectified at an early stage in order to optimise processes and minimise outages. In addition, on-prem infrastructures such as clients, servers and firewalls, including licensing and support, are continuously maintained and kept up-to-date to ensure optimal performance and security.
Hosting
In response to the growing need for reliable and secure hosting, synaforce offers this service based on its own HyperV platform for a wide range of products and services. From setting up and managing web servers to supporting the launch of e-commerce environments, synaforce enables its customers to deliver their services and products in a secure and scalable way.
Backup solutions and co-location
Synaforce is aware of the enormous importance of data security and availability and therefore offers comprehensive backup solutions. Regular backups and the provision of redundant systems protect business-critical data from loss. In addition, customers benefit from co-location services, which support them in operating their IT infrastructure in synaforce's own highly secure and sustainable data centres.
Cloud solutions
By using the cloud, companies can use their IT resources more efficiently, as they have the ability to scale their infrastructure on demand. Synaforce helps clients migrate their IT environments to the cloud, whether by transferring existing applications or developing new cloud-native solutions. With their in-depth knowledge of cloud architecture, security and compliance, the IT specialists develop customised cloud solutions to meet customers' individual requirements. This includes hosting virtual machines or applications, monitoring machines on site or backing up data in their own data centre. The focus is on data protection and data security to ensure that company data is optimally protected in the cloud.
IT Risk Check
synaforce's IT Risk Check includes a thorough on-site assessment of the protection needs and risks associated with corporate IT environments and equipment. Through this comprehensive check, potential vulnerabilities and security gaps that could pose a risk to the IT infrastructure and corporate data can be identified. The experienced team conducts a detailed analysis that takes into account all relevant aspects, including physical security, network security, access controls and data backup. Based on the results of the IT risk check, targeted measures can then be taken to improve the security and protection of IT systems and data. This service offers companies the opportunity to regularly check their IT infrastructure and ensure that it meets current security standards.
With the experience and expertise of "Team Abakus", Synaforce offers a wide range of services, including the classic system house business, consulting and planning of IT projects, monitoring and operation of on-prem infrastructures, hosting, co-location and cloud computing solutions as well as the IT risk check. Your company thus has a competent partner at its side for mastering its diverse IT challenges.